Super Food Spotlight: Blackberries
The blackberry is a delicious and versatile fruit. Ancient cultures, such as the Romans and the Greeks, used the blackberry fruit, bark, and root for healing numerous health conditions ranging from mild diseases to venomous bites. During the 18th century, the Greek cure of utilizing blackberry for treating gout was so influential in Europe that blackberries became famously called the 'gout berry'.
Recent scientific evidence has contributed broadly in unearthing the therapeutic potential of blackberries such as antioxidant properties, anti-cancer possibilities, and the overall immunity boost that blackberries are shown to provide.
BLACKBERRY NUTRITION AT A GLANCE
Health advantages of blackberry include better digestive health, bolstered immune defense, healthy functioning of the heart, and blackberries are even said to have cancer fighting properties.
Vitamins provided by blackberries include vitamin A, vitamin B1, vitamin B2, vitamin B3, vitamin B6, folate, vitamin C, vitamin E, and vitamin K. Blackberries are also a source of calcium, iron, magnesium, phosphorous, potassium, and zinc. On-top of this, blackberries are also a good source of amino acids and essential dietary fiber, and they do not contain any harmful cholesterol.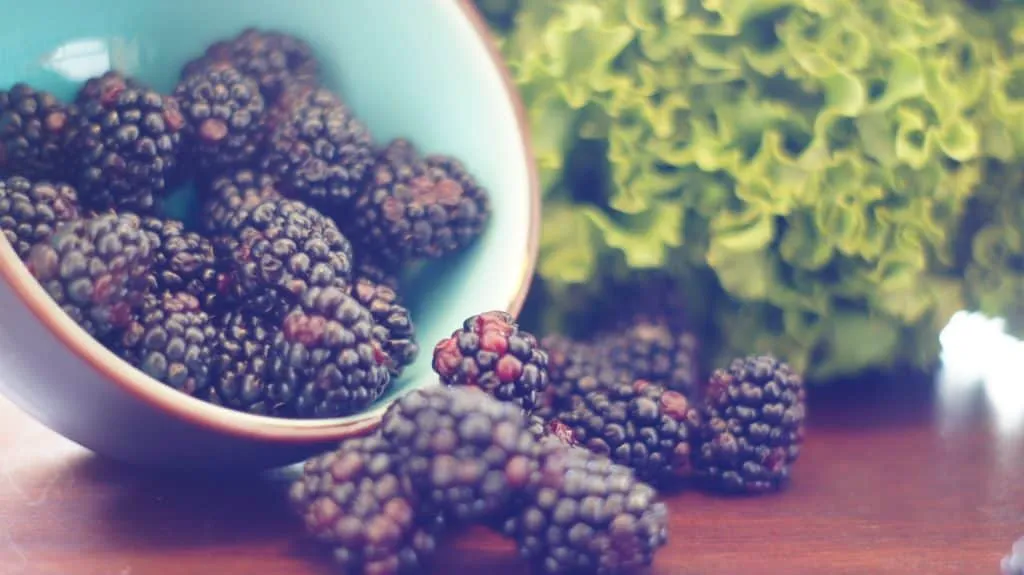 BLACKBERRIES ARE A SOURCE OF VITAMIN A
Blackberries also include vitamin A, which serves many roles within the body. Vitamin A supports the immune system, which combats diseases and sickness. Additionally, it encourages the maintenance of bones, teeth, and healthy skin.
Vitamin A is responsible for generating the pigments in the retina of the eye and also aids to strengthening eyesight. If you go without proper eye nutrition for too long you may end up experiencing numerous health ailments and may even go blind.
BLACKBERRIES ARE A SOURCE OF VITAMIN C
Blackberries contain a high degree of vitamin C. One serving of 100 grams of blackberries contains 35 percent of an individual's recommended daily allowance (RDA) of vitamin C.
Vitamin C is involved in protein synthesis and is crucial for the body to produce collagen and certain neurotransmitters. These procedures are critical for many bodily functions, including wound healing. The human body cannot synthesize its own vitamin C, so it's essential to include it as part of a healthy diet.
Vitamin C also has antioxidant properties and is involved in healthy immune system function.
BLACKBERRIES ARE A POWERFUL ANTIOXIDANT
Blackberries contain high levels of antioxidants, which help individuals fight against the negative effect of free radicals within the body. Free radicals can harm cells and are considered to be closely involved with the aging process and other health ailments, such as cancer and cardiovascular disease.
The human body uses antioxidants to decrease the damage that free radicals may cause. It's likely that by eating and drinking foods that have lots of antioxidants this process will be encouraged within the body.
BLACKBERRIES ARE A SOURCE OF FIBER
A 100 gram serving of blackberries comprises 14% of the RDA of fiber. Fiber is a type of carbohydrate that the body can't break down into smaller, sugar molecules, as it can with different carbs. Fiber plays a crucial role in regulating blood sugar levels and sugar intake.
There are two types of fiber in food, soluble and insoluble.
Soluble fiber dissolves in water, and it is connected with lowering blood sugar levels and helping a person maintain a healthy degree of cholesterol.
Insoluble fiber doesn't dissolve in water but encourages healthy digestion.
Blackberries include both soluble and insoluble types of fiber.
BLACKBERRIES MAY PROVIDE CANCER-FIGHTING BENEFITS
Blackberry fruit is helpful in the fight against the growth of cancers such as lung cancer, colon cancer, and esophageal cancer. The micro-nutrients within blackberries apply a chemo-preventive impact and block the proliferation of cancerous cells. Blackberry extracts inhibit germs and related cell signaling. In addition, it owns chemo-preventive effects, according to a study published in Nutrition and Cancer by the research team at the National Institute for Occupational Safety and Health.
BLACKBERRIES PROVIDE SKIN CARE BENEFITS
Blackberries can function as a delicious assist in maintaining beautiful skin. Blackberries are packaged with numerous skin-friendly nutrients such as vitamin C, vitamin E, along with other powerful antioxidants. The vitamin E within blackberries will help in keeping up the production of healthy skin fats and prevents skin from developing wrinkles prematurely.
Aside from protecting the skin from oxidative damage, vitamin C can also be responsible for the formation and strengthening of collagen. Collagen is the cornerstone of connective tissues and thus helps keep skin supple and tight.
IN SUMMARY
Blackberries are rich in many nutrients and have a range of health advantages. More studies are required to detail a few of these advantages, however, science has documented many of the positive activities of the vitamins in blackberries.
People can easily add blackberries into a wholesome diet, they're a great addition to almost any breakfast, or as a part of a smoothie, or even as a snack on their own.